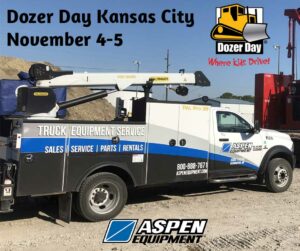 Aspen Equipment is ready to have some fun with kids of all ages at this year's Dozer Day Kansas City at Truman Sports Complex from November 4-5, 2023. The company will bring its custom-built mobile service truck and a Potain self-erecting crane to the event for children to climb on board and operate.
Dozer Day is an event where children get to sit in the driver's seat and operate dozers, excavators, and other machinery while accompanied by a professional operator. Other equipment is also available for older kids to operate without in-cab guidance. Although it is primarily for fun, the experience can generate interest in machines and lead participants to pursue a career in heavy equipment operation and construction.
"Dozer Days is fun for the kids and the whole family," said Toni Johnson, Rental Operations Manager at Aspen Equipment. "This is a unique event designed to give kids an opportunity to get an actual hands-on construction industry heavy equipment experience, and perhaps spark a lifelong journy in the trades."
Aspen's staff will offer information about the company's products and services, and free giveaways at their booth.
Everyone two years and older needs a ticket for entry. Tickets can be purchased via the event's website. Parking fees will be updated closer to the event date. All proceeds from the event benefit the community and nonprofit organizations throughout the Kansas City area.
Dozer Day is an event presented by NUCA Greater Kansas City.