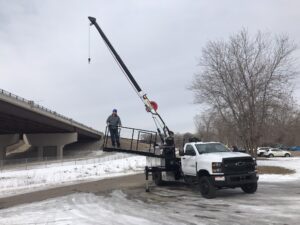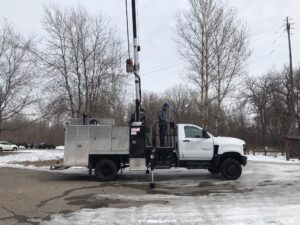 One of Aspen Equipment's most challenging sign truck upfitting projects to date has been delivered to a municipal customer in Kanabec County, MN. Featuring a 6,000 lbs capacity Palfinger crane plus operator catwalk, the operation to fit out a mid-sized Chevrolet Silverado 6500 HD chassis cab was the kind of conversion that the company is frequently called upon to perform — but rarely to this level of specification.Packing a punch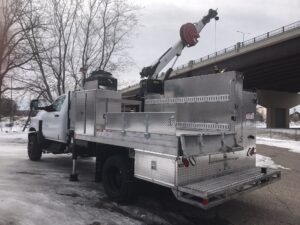 Conveniently, the Palfinger PSC 6025 service crane that was incorporated into the Chevy made life a little simpler for the technicians, by virtue of being part of a range that is up to 30% lighter and 20% stronger than competitive models. Requiring fewer setup adjustments, its 29 ft boom length improves access for challenging lifts, especially with the optional personnel basket accessory. For this particular customer, however, the hydraulically extendable catwalk is expected to provide sufficient access for workers, extending 12 ft from the side of the truck and enabling the operator to work up to 12 ft above ground level. Anchored by a pair of hydraulic rear outriggers that extend up to 6 ft, the Chevy provides a solid foundation from which to ensure tasks can be performed with the utmost efficiency.
"Municipalities invariably want something with large-truck capabilities, while still being small enough to enable a smaller turning radius in the garage, or that doesn't require a commercial driver's license, for example," said John Orzechowski, Municipal Sales, Aspen Equipment. "But I think what makes this latest upfitting job unique is having such a large crane on a relatively small chassis, along with its hydraulically extendable outriggers and catwalk."
Like the truck body, which had to be designed from scratch, the tower that supports the service crane was also engineered by Aspen Equipment at its nearby Bloomington, Minnesota, headquarters.In the knowWidely used across municipalities for the installation, maintenance, or replacement of roadside signs, Aspen Equipment's sign trucks provide a perfect example of the company's deep understanding of the unique needs of government agencies. With access to countless options and configurations, its experienced team works closely with customers throughout the entire process, including 3D modeling, build, and in-service phases, to deliver the most suitable and efficient purpose-built government equipment truck for their application. Aside from fully customizable steel or aluminum bodies, other notable options include post storage and handling provisions, articulating or straight cranes, customizable sign storage, on-board air compressors and welders, post pullers and post pounders, and traffic directional and safety lighting.
"This truck project really illustrates one of the best things about my job — the problem-solving that is required when a customer makes such specific demands," Orzechowski said. "We put our heads together and figure out the best possible combination of equipment and truck design, and how to make it work optimally to help them do the job efficiently and safely."
Click here to see municipal solution options that can be customized for you.