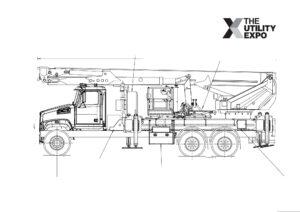 Aspen Equipment will display the Bronto S125XDT aerial work platform truck at The Utility Expo 2023 in Louisville, Kentucky, along with information on its range of market-leading, final-stage work truck upfitting options for the utility industry.
This year's Utility Expo will be held from September 26-28 at the Kentucky Exposition Center. Aspen staff will be at the Bronto Skylift booth #E1416 in Lot E.
"Aspen knows utilities and we'll be demonstrating how at the Utility Expo," said Jed Fischbach, Territory Manager at Aspen. "Our team is excited for this tremendous show, and we'll be ready to answer questions and tell visitors about our custom upfitting solutions and products that serve the utility sector so well."
Powerful package
The Bronto S125XDT aerial work platform truck features a Cummins X15 engine and Allison 4700 RDS-P transmission, all in a compact design to ensure optimal maneuverability. Its telescopic cage boom provides up-and-over and below-ground reach. Four outriggers that extend out to nearly 21 ft elevate the entire chassis off the ground for maximum stability.
Other features of the platform include:
Working height: 125 ft
Height to working cage bottom: 118 ft
Working outreach: 88.5 ft
Cage load: 1,543 lbs
Up-and-over capability: 34.5 ft
Working cage slewing: +-90 degrees
Continuous rotation
Typical weight with chassis: 18 t
Aluminum sides on the decking
One-sided outrigger operation
Amber flashing light on work platform
Backup alarm
(2) GO lights, (2) LED ECCO strobe lights front, (2) at rear chassis
(2) LED work lights, (1) each side of boom
(2) aluminum underbody boxes
PTO and pump
Aero motive ground reel GR 1000L
Reelcraft hose reel 50' x 3/8" hose
White exterior; gray interior
The Aspen way
Widely used by utility contractors for installation and maintenance work, Aspen's trucks provide a perfect example of the company's deep understanding of the specific needs of the utility sector. With access to countless options and configurations, its experienced team works closely with customers throughout the entire process, including 3D modeling, build, and in-service phases, to deliver the most suitable and efficient purpose-built utility equipment truck for a variety of applications.