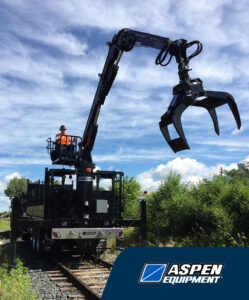 Aspen Equipment brings its decades-long expertise in custom-built hi-rail truck upfits to Railway Interchange in Indianapolis. This year's event will take place at the Indiana Convention Center from October 1-4, 2023, and is expected to draw nearly 9,000 professionals from the rail industry in the U.S. and around the world.
Aspen will be at booth #4030 in the REMSA hall.
Timothy Marr, railroad sales manager at Aspen, said the event offers a valuable chance to reconnect with current clients and introduce Aspen to new ones.
"Railway Interchange is a fantastic opportunity to promote Aspen to rail professionals who are unfamiliar with our capabilities. People may not realize it, but our Aspen-built hi-rail truck upfits have been used for maintenance on and around railroad tracks throughout the U.S. for many years. We're looking forward to meeting visitors and learning what their needs are. We're confident our custom truck upfits and the Aspen Creep Drive system will be a highlight at the show."
Railroad-ready systems
Over the last few decades, Aspen has set a new standard for efficiency in Railroad Grapple Trucks with the Aspen Creep Drive system for rail use. The company's simplified chassis-propelled creep drive enables rail vehicle operators are able to maintain on-rail travel without having to leave their seat. The multi-plex on-control handle creep drive system is the first in the industry to be compatible with the Eaton Ultra-Shift and Allison transmissions, allowing for speeds up to 19 mph in reverse. Aspen's system eliminates the need for hydrostatic driven creep drive systems by communicating directly through OEM engine and transmission channels.
Aspen Creep Drive is engineered for maximum operator efficiency, superior reliability, and significant cost savings. Currently in use with multiple Class I railroads, the advanced safety features integrated into the Aspen Creep Drive system ensure that operator safety is top priority. With this system, Aspen has shifted the paradigm of the material handler specification into new territory.