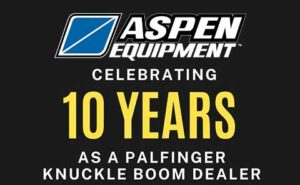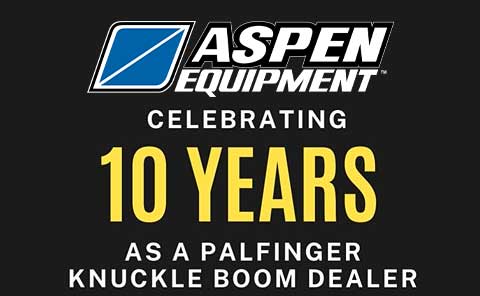 The past decade of partnership between Aspen Equipment and the Austrian-based crane manufacturer has proven successful – Aspen Equipment has enabled customers to reliably access PALFINGER's industry-leading knuckle boom cranes while enjoying the service and support Aspen Equipment provides to the Midwest.
With a focus on ease of use and efficiency, PALFINGER's cranes fit in perfectly with Aspen's reputation for dependability. PALFINGER is a worldwide market leader in loading cranes, offering over 100 different models. The company's products also include hooklifts, cable hoists, forklifts, liftgates, services bodies, and platforms.
"PALFINGER knuckle boom cranes have been a great option for our customers that require a reliable lifting solution for their truck-loading operations," said Mark Hoffmann, VP GM at Aspen Equipment. "Both Aspen and PALFINGER have been in operation for almost a century, so it's no surprise that our companies are well-oiled machines, providing great cranes and the support that backs them. We look forward to continuing this partnership in the future."
Aspen Equipment has been in operation since 1926. PALFINGER was founded in 1932. Both companies have continuously worked over this time to provide great value to their customers. To learn more about acquiring a PALFINGER knuckle boom crane truck from Aspen Equipment, click here.